NEXGEN SIMS is run by an international consortium of world-leading mining companies, equipment and system manufacturers and universities. The project is divided into a number of work packages, which in turn consist of several tasks – each led by a qualified work package or task leader.
This type of project and partnership is an important enabler for system innovation, and I would like to express my appreciation for the EU investing in this project, and for the project officer in particular. The kind of professional dialogue we're having is very fruitful for the project.
Mining equipment and service supplier Epiroc is proud and honoured to lead the NEXGEN SIMS project and consortium. Collaboration is key to sustainable mining!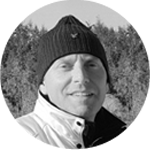 Jan Gustafsson
Project Manager NEXGEN SIMS
– Epiroc